Unique Nursery Service for Santa Barbara and Surrounding Areas.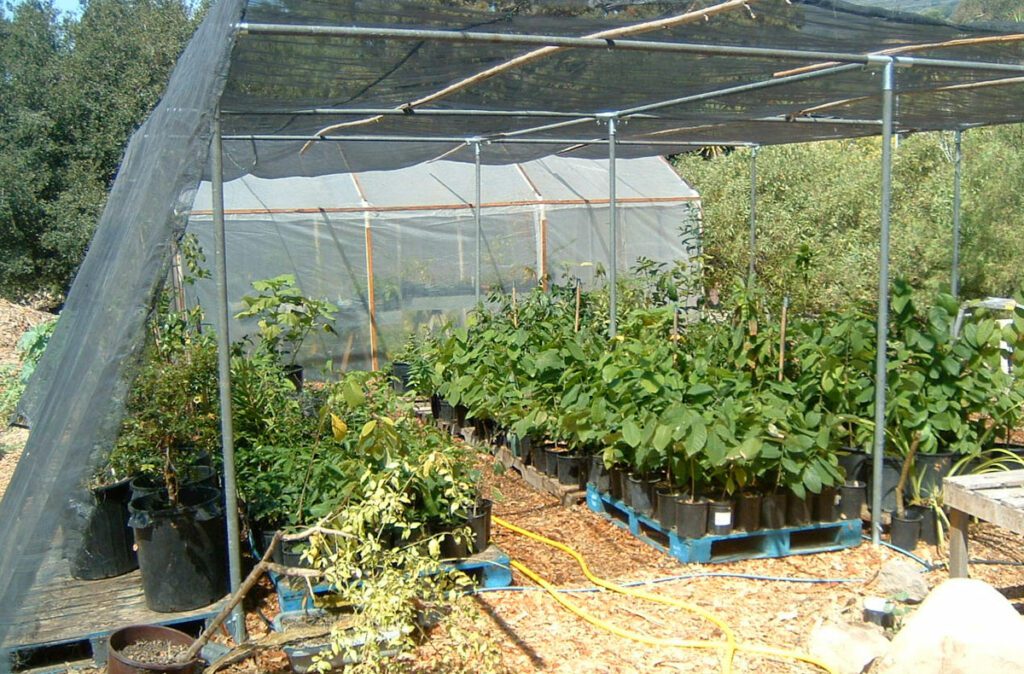 Focusing on rare and edible food plants, we also offer many other economically and environmentally useful plants for sale.
CDFA Nursery License number A1399.001
Food is essential to culture, and its diversity is representative of our heritage. As our diets become more global, cultures meld. In the preservation of plants is the preservation of civilizations.
If there is a plant that you need for a project, we can arrange to propagate it for you in our greenhouse. If we do not have the genetic material on-hand, we can source it and grow it for you. Our specialty is to provide quality plants that are hard to find and have economic or food potential.
Andean Roots– The Incas were extraordinary horticulturalists. They turned their wild plants into hardy root vegetables. Through generations of selection, they bred highly nutritious root crops like oca, mashua, achira, and yacon, among others.These plants are all perennials and therefore do not need to be sown every year. They all work very well in the low-maintenance garden. They are all very nutritious and tasty. And perhaps best of all, they are all beautiful plants on their own.
Fruit Trees – Our collection of subtropical and deciduous fruit trees are the source for bud wood and cuttings. We offer over 8 varieties of mullberry, 8 cherimoya, 5 banana, and many more hard to find food plants.
We also offer proprietary named varietals, developed and selected by SB Organics:
'Taylor' Mulberry
'O' Cherimoya
'Prosperity Apple
'White-Gold' Peach
'Gold Drop' Plum
'Ambrosia Tropical' Guava
We grow open pollinated varieties of fruit trees as much as possible. This means that they can be propagated from seed and the same or very similar fruit will be produced by the progeny.
We sell seed of several species of nitrogen fixing trees and understory perennials, as well as selected fruit trees as seasonally available.
Succulents and Drought Tolerant Plants:
Water is precious, especially in California. These plants can survive on rainfall alone, and look great doing it! Some you can even eat!
Prickly Pear, Opuntia ficus-indica. Pads (nopales) and fruit (tunas) are edible.
Peruvian Apple Cactus, Cereus repandus. Columnar cactus with amazing flowers and delicious fruit.
Aloe spp. A wide variety of Aloes native to Africa that flower in the winter and are great for attracting hummingbirds into your garden.
Aeonium, Crassula, Echiveria, Kalanchoe, and more… So many great succulents!
Contract Services
SB Organics offers contract grown services for selected varieties of trees. Contact us for more information.
Contract Grown Plants:
Andean Root Crops
Rare Fruit Trees
California Native Plants
Cut Flowers
High Value Timber Trees
Windbreaks and Hedgerows
Nitrogen Fixing Trees
Livestock Fodder Trees
Seed Collection and Sales
Contact Us for more information and availabilities